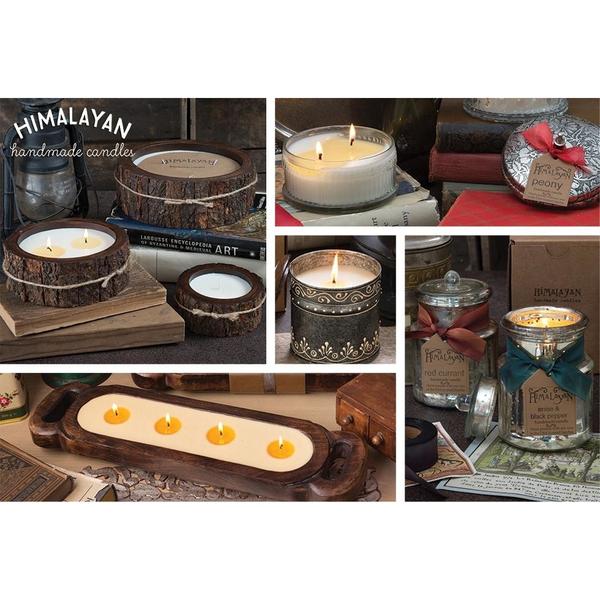 Himalayan Candles, combines beautiful, eternal fragrances with vintage art and traditional artisan hand-making skills.
We are really excited to be introducing this range of gorgeous candles: handmade using natural soy wax, essential and fragrance oils, each in a unique handmade reusable container.
"The company was founded in 2004 by Julia Leaphart, a venture that started in her kitchen as a way to connect with a childhood spent in a small town in the foothills of the Himalayas, combined with a need to earn a living for herself and her young daughter. Julia began by pouring candles into sourced wooden containers and selling them at local antique shows and craft fairs. The company grew from there as it found its niche selling high quality artisan candles.
Each candle is poured by hand using a natural soy wax blended with high quality essential and fragrance oils, whilst cotton wicks ensure a clean and even burn. All candles are handmade and packaged in Decatur, Georgia. The containers used are unique and handmade, and can be reused once the candle has burned away. Amongst the delightful fragrances available are Peony, Anise & Black Pepper, Ancient Philosophy, Grapefruit Pine and Tobacco Bark – each is a complex mix of layers designed to evoke memories of a particular time and place.
Containers vary from artisan traditional hurricane lampshapes, made from tall-bubbled glass, to powder boxes, decorative vintage style replicas of antique powder puff containers made from glass with etched metal lids in two finishes. With a silver finish or a tree bark copper finish each is designed to cast a warm glow when lit. Choose from ornately decorated silver floral or a copper peacock design; each is finished with a hand-dyed silk ribbon. A wooden candle tray hand hewn from mango wood is a beautiful addition to any home plus any of the other styles available. Burn-times range from twenty to 160 hours."
© 2016 Himalayan Trading Post. All Rights Reserved. Distributed by Enesco Ltd.