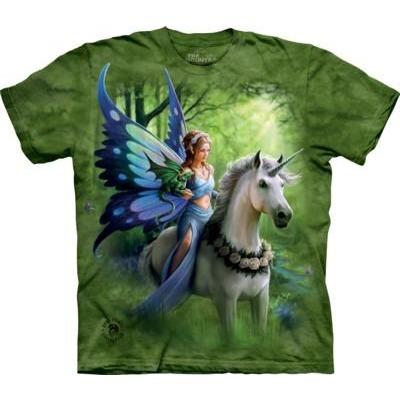 We have some fantastic T-Shirts to offer you. Buy Gothic designs by Alchemy England 1977 and more colourful fantasy themed T-Shirts by the Mountain.
All our T-Shirts stand out from those offered by the mass market and are a perfect gift to buy for discerning individuals! 
We have superb T-shirt designs with fairies, dragons, wolves and other fantasy creatures. Discover our full range in our Sheffield store and we are constantly adding more for you to buy online. If you can't find what you are looking for please ask and the fairies (um) we will do our best to help. Also if you can not see the Size you require please email us at fairywingsandthings@thecws.plus.com In Most cases we are able to place a special order for you from our suppliers.
The Mountain t-shirts are made from 100% cotton, all the garments are pre-shrunk and hand dyed, the designs are printed with environmentally friendly water based inks. This means you can simply iron across the prints. The Mountain prides itself in obtaining the Oeko-Tex 100 certification issued by The Institute of Research and Testing in Textile Ecology. The production process and the garments are manufactured free from any harmful substances.

You can actually feel the quality ! The cotton is top grade and the printing becomes part of the fabric. As a result from a patented printing process, buying a Mountain T-shirt means being able to enjoy it for years to come without cracking or loss of the image.