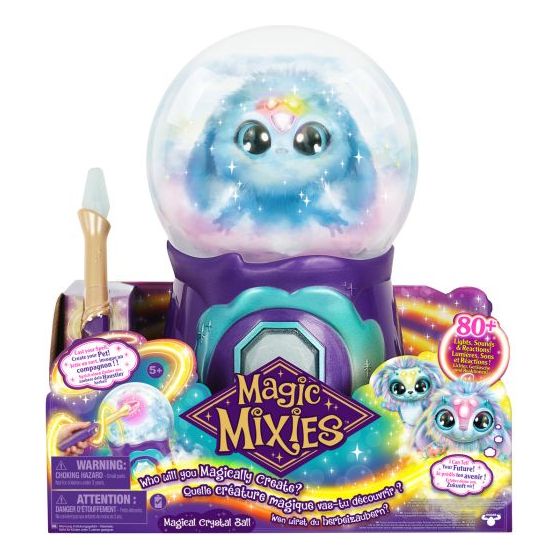 An absolutely awesome toy. Cast your spell and create a fortune telling pet inside the Magic Mixies Magical Crystal Ball! From the makers of the Magic Mixie Magic Cauldron, it's now time to work on your spell-casting skills and make Real Magic happen inside this feature packed magical misting Crystal Ball! Create your very own fortune-telling Magic Mixie by performing the Creation Spell using your light-up interactive magic wand. Be amazed as your Crystal Ball magically responds to your wand's movements! For each step of the Creation Spell, you will need to master the correct wand movement and say the magic word for that step.
First, awaken the Crystal Ball, then summon real magical mist before giving your Magic Mixie its voice and color! Then teach it how to tell fortunes before saying the magical words 'MAGICUS MIXUS' and bringing your Mixie to life! Watch as colorful lights and sounds move and change while the magic happens inside…then, as the mist clears your Magic Mixie magically appears!
Remove the top of the Crystal Ball to release your cute new interactive plush toy pet! The magic and fun has only just begun, once your remove your new pet from the Crystal Ball, use your magic wand to interact with your Magic Mixie. Perform different spells, play an interactive fun game together and have your fortune told by your cute little creation! Tickle and nurture your Mixie and hear them react as you build a magical friendship together. Your Magic Mixies Crystal Ball can be reset so you can perform the mist-filled reveal inside your Crystal Ball again and again using your Magic Mixie or other items from home!
The Crystal Ball can also be used as a Night-Light for a magical bed time each night. Real Magic is just waiting to be revealed. Who will you magically create?
This fantastic magical toy gift is recommended for ages 5+ years. Making a great gift for all occassions
★★★★★

The whole experience with this company was very streamlined and easy.
The website is easy to navigate right through to selecting items and payment.
The dispatch was prompt and received in a couple af days.
My item was very securely packaged with clear addressing and received in immaculate condition.
I will definitely be buying from them again and would have no hesitation in recommending to others.
Thank you for an easy and professional experience

Carol Morris

February 2022, GB
★★★★★

Very happy 😊.

Lovely, unusual little incense burner. Well packaged, arrived quickly, reasonably priced. Thank you 😊.

Gina

UK
★★★★★

Fantastic customer service and speedy delivery

Ordered a cocomelon bike and came the next day absolutely amazing customer service and speedy delivery thankyou so much will definitely order again and recommend to my friends

Beth January 2022

Cleethorpes, UK