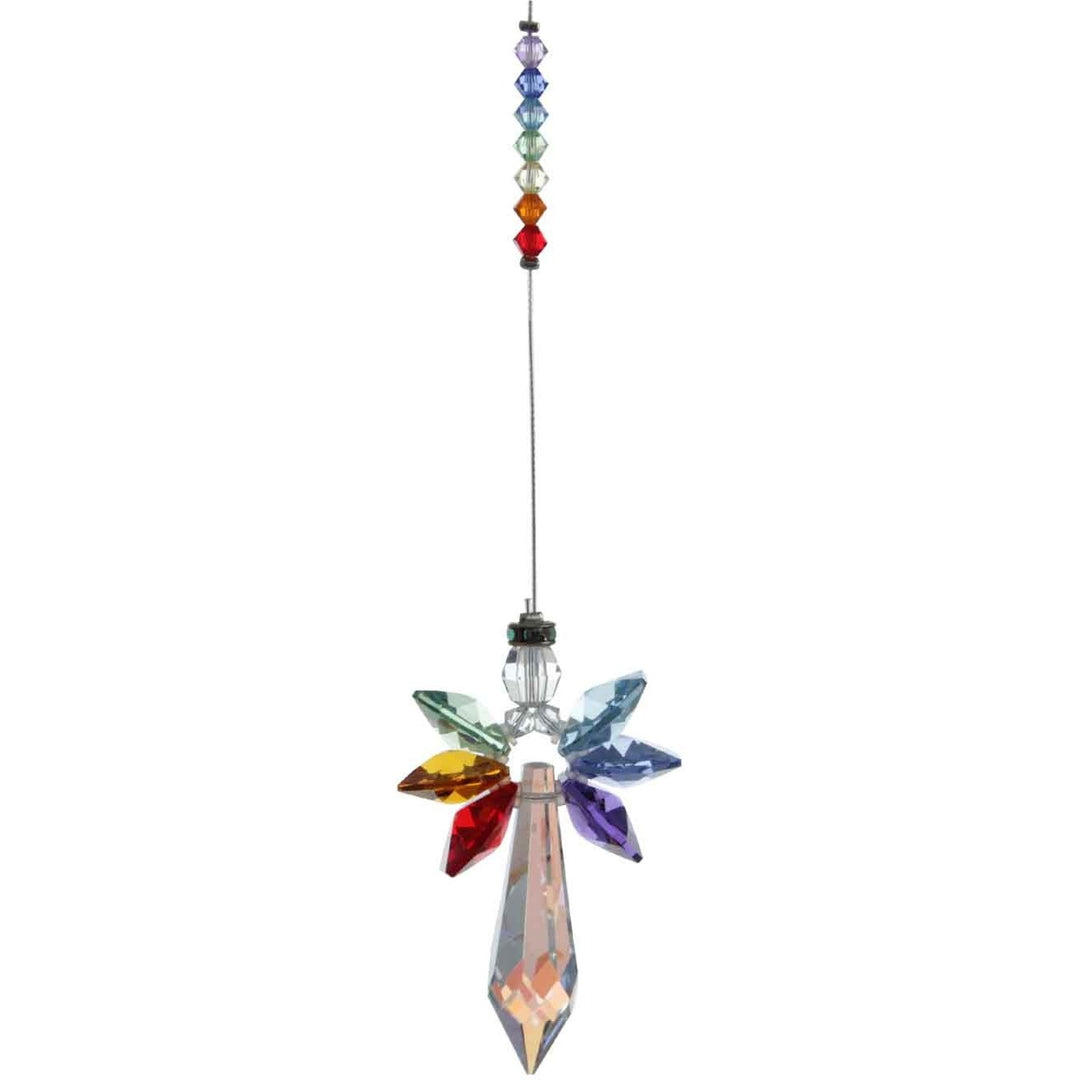 This beautiful crystal angel  is lovingly hand made in the UK using Swarovski(R) Elements Crystals. A gorgeous inspired, thoughtful Angel gift.
Chakra Angel's are believed to help with "Love, Guidance and Protection"
This gorgeous crystal guardian angel, features the colours of the seven energy centres of our body:
RED

 

– Root Chakra – Muladhara.
ORANGE

 

– Sacral Chakra – Svadhisthana.
YELLOW

 

– Solar Plexus Chakra – Manipura.
GREEN

 

– Heart Chakra – Anahata.
BLUE

 

– Throat Chakra – Vishuddha.
INDIGO

 

– Third Eye Chakra – Ajna.
VIOLET

 

– Crown Chakra – Sahasrara.
When these chakra's are balanced we will have a healthy mind, body and spirit. Each Chakra is essential for life and has it's own purpose, for example the red/root Chakra provides grounding and relates to financial and emotional security. 
★★★★★

The whole experience with this company was very streamlined and easy.
The website is easy to navigate right through to selecting items and payment.
The dispatch was prompt and received in a couple af days.
My item was very securely packaged with clear addressing and received in immaculate condition.
I will definitely be buying from them again and would have no hesitation in recommending to others.
Thank you for an easy and professional experience

Carol Morris

February 2022, GB
★★★★★

Very happy 😊.

Lovely, unusual little incense burner. Well packaged, arrived quickly, reasonably priced. Thank you 😊.

Gina

UK
★★★★★

Fantastic customer service and speedy delivery

Ordered a cocomelon bike and came the next day absolutely amazing customer service and speedy delivery thankyou so much will definitely order again and recommend to my friends

Beth January 2022

Cleethorpes, UK